The Day Of Brooklyn
Times goes on but I know just where you are. I wouldn't live like others do. "I'd like to borrow something old and blue. Something to wipe my face with", she said.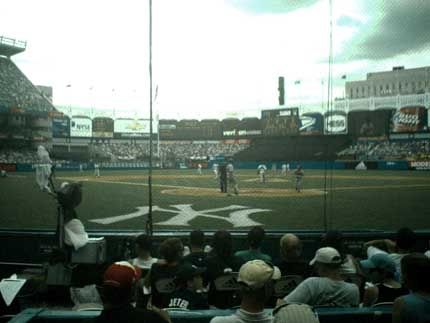 Last wednesday I got to witness my first US baseball game ever. The Yankees took on the Atlanta Braves in a remarkably boring, yet well-attended, 5 hour slightly homo-erotic manfest. I played baseball for 10 years and loved it, but I never enjoyed watching others play. We had wonderful seats, directly behind homeplate, see the picture above taken with my glorious camera phone. It was an interesting experience for sure. They sold plastic bottles of beer for $7.75. It ended in a powerful homerun for the Yankees.
Last night I went to what finally felt like a real underground music discovery activity. Some warehouse that was turned into a venue in the middle of nowhere on an industrial lot in Brooklyn. It was slightly scary in an exciting way. Once inside however it was great. Canadian bands selected by
BrooklynVegan
, cheap drinks, and an interesting mix of dirty brooklyn kids and blog reading Manhattanites that were slightly too manicured for the venue at hand. Some intentionally dirtied themselves up to fit in though. Maybe even bought holed up jeans. The music was great with Land of Talk being my favorite of the night. The picture above is a band called
The Ballet
who were really fun in a Stars meets Belle and Sebastian indie pop kind of way.
Ramesh of
Voxtrot
played a short acoustic solo set which was quite enjoyable. Two new songs were played that sounded like they'd come out really nicely full band. They're recording their first full length for Play Louder Records in the upcoming months.
Land of Talk was last, after an enjoyable set by Tokyo Police Club, and they were most enjoyable. The singer's voice reminded me a lot of Shea Seger, who I don't think was ever successful in the US and seems to have dissappeared completely. Great show with a good amount of charisma and memorable melodies. (Pictures of the night by
Bow
.
Download of the Day
The Ballet - I Hate War
(MP3)
Voxtrot - The Start of Something
(MP3)
Land of Talk - Seafoam
(MP3)