The Day We Said No
"Can we be in your video if we flash the camera?", the 15 year old girls asked running towards us while we filmed an upcoming
Undisputed Heavyweights
skit. Vince had called it correctly when he announced, "Uh-oh, Girls Gone Wild." Our initial reaction inside of our own heads might have been fed by our caveman instincts (yes, breasts=good), but within milliseconds we exclaimed: "No, no!" with images of bread, water and jail cells in our heads which our modern city man instincts were not good (no, having to join the Aryan brotherhood for protection = bad). Despite the good decision, we left that street corner feeling slightly soiled. Mostly I was glad that
Jeff
didn't have to join the Aryan Brotherhood though.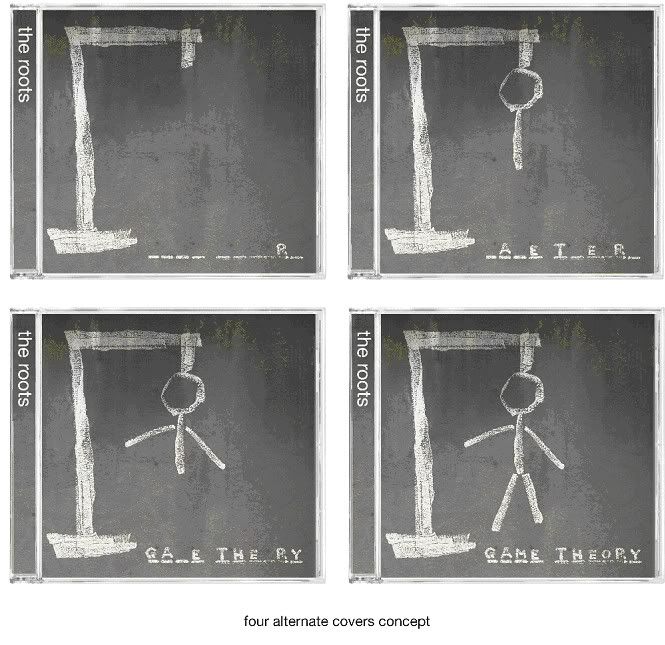 I love the concept of the serialized album cover. It might cost a little more to produce, but it's exciting to discover. The Roots have done it before, and their new album cover, see above, is a set of four. It might seem like just the depiction of a game, but there might be a more political background to the illustration. I shall inquire.
More albums added to my iTunes.
Jurassic 5 - Power In Numbers
(1998) ::
Still underrated.
The Police - Every Breath You Take
(1995) ::
Must have.
Ice-T - Original Gangster
(1991) ::
CLASSIC.
Recently, albeit perhaps a little late, I discovered Goodnight & Goodnight, another one of those fun PA bands. MP3s below.
Download of the Day
The Roots - "Please Don't Go" (Demo)
(MP3)
The Roots - Pfffat
(MySpace)
Goodnight And Goodnight - The Sun Hits Her Face
(MP3)
Goodnight And Goodnight - 1915
(MP3)